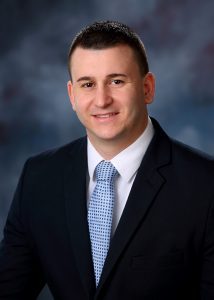 Andrew DiNuccio has joined First Financial Trust as an Investment Officer. With his extensive understanding of the regulatory and financial considerations involved in the 401k business, Andrew will initially manage First Financial Trust's introduction of this offering for businesses and their employees.
Andrew brings 8 years of experience in various positions in the wealth management and investment services industry. Throughout his work experience and professional studies, he has spent extensive time researching and analyzing securities in the financial markets.
Prior to joining First Financial Trust, Andrew worked at New England Investment and Retirement Group, helping build financial plans for high net worth families to maximize their wealth. Andrew also managed the 401k department where he worked directly with business owners to help find the best investment solution for their employees, and met with employees to help customize retirement plans to fit their specific needs and risk tolerance.
Andrew received his Bachelor's Degree with a concentration in finance and minor in economics from Merrimack College in 2013. He recently completed his MBA in May 2020 from the Van Loan School of Business at Endicott College with a concentration in financial management.
Andrew's passion is building relationships with individuals and families to help them achieve financial independence in order to live the life they desire. Andrew currently resides in Danvers, MA and is active in his community.
"We are pleased to welcome Andrew to the First Financial Trust and The Savings Bank team," said Brendan Szocik, President and Chief Executive Officer of First Financial Trust. "He brings solid experience in the investment services industry, with a focus on the 401k sector. Perhaps most importantly, Andrew has a strong passion to serve businesses and customers, and our local communities, to help them thrive. We wish him every success in this new position."
A subsidiary of The Savings Bank, First Financial Trust has offices in Wakefield, Leominster, and Wellesley, Massachusetts and serves clients across the United States. First Financial Trust is one of 53 nationally chartered trust companies in the United States.
Established in 1869, The Savings Bank, headquartered in Wakefield Massachusetts, is a $625 million community bank with offices in Wakefield, Lynnfield, North Reading, Andover, and Methuen.