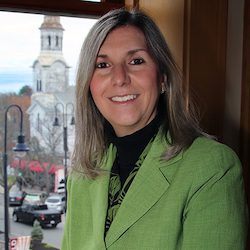 Laura J. Wante of Methuen recently joined The Savings Bank as Senior Vice President –Human Resources with responsibility for managing and overseeing all human resources functions at the Bank, including recruiting, employee relations, developing and maintaining staff compensation structures, updating job descriptions, and developing and implementing training programs and opportunities for Bank staff, among other related responsibilities.
Laura has more than 25 years of human resources experience in various industries, including financial, manufacturing and sales. Before joining The Savings Bank in Fall 2021, she worked at the Merrimack Valley Credit Union in Lawrence where she held positions of increasing responsibility, most recently as Senior Vice President, Human Resources. She has also been associated with Hesser College in Salem, New Hampshire as an instructor.
Laura received her MBA with a concentration in Human Resources Management from Rivier College of Nashua, New Hampshire, and her Bachelor of Science degree in Management Science from Bridgewater State University. She has completed specialized training at the CUES CEO Institute where she earned her Certified Chief Executive designation.
Her professional and civic affiliations include membership in SHRM, CUNA HR Council, Credit Union Employees' Retirement Association (CUERA) Trustee, YWCA Board of Directors, North Shore Human Resources Group Chair, former Director of GMVHRA, Italian Women's Club, and St. Rita's Sodality.
"We welcome Laura Wante to The Savings Bank as Senior Vice President –Human Resources," Bob DiBella, President and CEO of The Savings Bank said. "She brings a wealth of knowledge and experience in human resources and compliance, both in the financial services industry as well as private industry. We look forward to working with Laura in her new position at The Savings Bank."