The Savings Bank has a proud history of community involvement and support for organizations in the towns and cities that we serve.
By supporting local community organizations and initiatives, we are able to contribute and improve the quality of life within the markets we serve.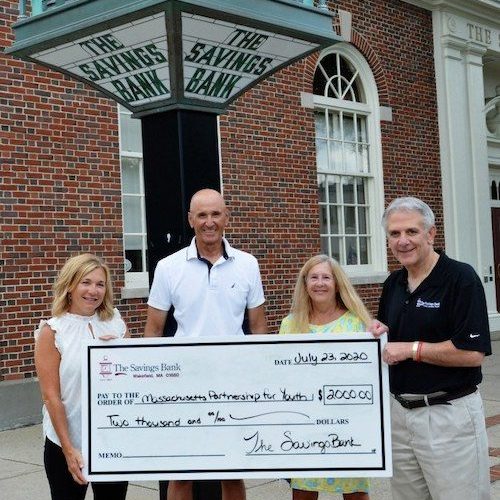 TSB Charitable Foundation
Established in 1997, The Savings Bank Charitable Foundation, Inc., supports non-profit organizations that serve residents of Wakefield, Lynnfield, Andover, Methuen, North Reading and surrounding cities and towns.
Since its inception, the Foundation has donated over $885,039.
Donald E. Garrant Foundation 
We established the Donald E. Garrant Foundation, Inc. in 2001 in memory of Don Garrant, former President and Chief Executive Officer of The Savings Bank. Mr. Garrant served as President of The Savings Bank from 1980 – 1992.
To recognize Mr. Garrant's passion for financial literacy, the Foundation seeks to support projects in the Public & Private Schools, Grades K-12, and Not-for-Profit Organizations, that focus on financial education – banking, money, saving, investing, borrowing and credit, and economics.
The Savings Bank supports eligible community-based organizations such as youth sports teams, scouts, PTOs, cultural groups, etc, through sponsorships and advertising opportunities.
We ask that requests for funding be submitted at least four weeks in advance. Organizations are encouraged to submit requests to The Savings Bank's marketing department by emailing marketing@www.tsbdirect.bank (please note, email is not secure).
We are happy to share meeting room space at our Andover and Wakefield offices, and invite you to contact us if you have any questions after reviewing the Guidelines below.
Meeting Room Guidelines 
The Community Room can accommodate meetings of up to 25 people.
A "Community Room Reservation Request" must be filled out and submitted via fax to 781‐224‐5300 (attention "Sheri") or via email to shsullivan@www.tsbdirect.bank.
Access to the Room will be through specified entrances and exits and must be coordinated by Bank staff. The Community Room is handicapped-accessible.
Meetings may not interfere with the Bank's conduct of business.
The Savings Bank is a smoke‐free facility. No alcoholic beverages may be served or brought into the Rooms.
No food or non‐alcoholic beverage(s) may be brought into the Room without the prior approval of the Bank.
The Room will be left in the same condition in which it was found.
Groups using the Room must be Wakefield‐based and a majority of its members must be Wakefield residents OR a member of the group must be an Officer of The Savings Bank.
The Bank reserves the right to limit the usage of the Room at its sole discretion (i.e. availability, hours of usage, days of the week, etc.).
There is no storage available for meeting supplies between recurring meetings.
Telephone service is not available. Participants needing telephone service should utilize cell phones.
The Rooms are generally available from 8:00 a.m. to 9:00 p.m. Times falling outside these parameters will be handled on a case‐by‐case basis.
These guidelines may be amended from time to time at the sole discretion of The Savings Bank.
From our customers
"Their community involvement has made a huge difference in Wakefield over the years."
From our customers
"I basically never have to go to the bank to deposit a check. it can be done from my phone saving me time, trips and gas which means I can focus on other important tasks."
From our customers
"Bank personnel are always so willing to help. They always greet us with a smile. In this world today, it makes us feel good!"
From our customers
"I spoke to Theresa today and she was incredibly helpful! That is why I bank with you! The personal touch is what makes the difference!"
From our customers
"I love it here!! Best service all around."
From our customers
"The whole banking center experience is excellent. The website is superior to most for my wants/needs to obtain and store on MY own computer our home banking records."
From our customers
"I found your online banking system very user-friendly. I also would like to mention that the staff in the Wakefield branch are professional and very helpful."
From our customers
"Such a great support center when you need help, and the technology has kept up. I use Zelle which solved a banking problem I had had for years. The team in Greenwood is absolutely excellent! Thank you all."
From our customers
"I am older and appreciate the ease of banking online. I always get good service at the branches I visit."
From our customers
"Love the tellers at the Lynnfield Center location. Very professional and caring."
From our customers
"The employees are knowledgeable, reliable, industrious as well as kind and personable."
From our customers
"Competent, knowledgeable, customer-focused, and very warm and friendly employees."
From our customers
"I mostly use the Methuen branch. All of the tellers have been wonderful and the branch manager is fabulous."
From our customers
"Always helpful whether in the branch or online!"
From our customers
"Love Lakeside. Mario and staff always greet me by my first name."
From our customers
"Banking with The Savings Bank was with me for several years & it will always be my bank forever!!"
From our customers
"Great people. Great service. Convenient."