Business Stories: Iron Horse Caisson
Like many small business owners, Iron Horse Caisson owners Jim DeFeo and Gina Daniels needed a commercial loan to help their expanding business grow. The Wilmington Massachusetts couple also needed a bank that recognized the importance of the unique and invaluable service they provide to others in their time of need.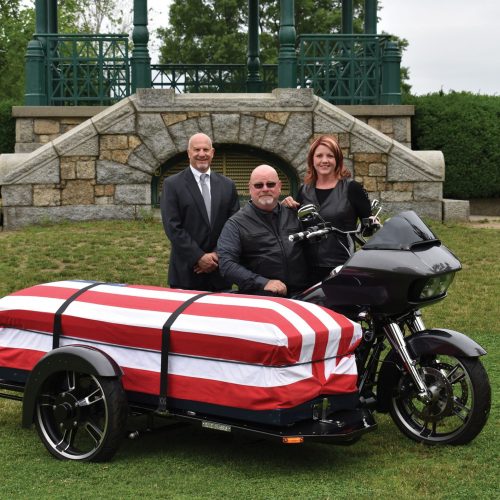 They found that bank in The Savings Bank.
"When Jim and Gina first met with our Lending team, we were intrigued and impressed by the service they provide, not only to military veterans but also to motorcycle enthusiasts and their families," Nicholas Kefalas, VP Commercial Banking of The Savings Bank said.
Iron Horse Caisson provides a nontraditional alternative to the standard limousine hearse and is the only Veteran-owned, independently operated motorcycle hearse service in the Northeastern United States.
Using a custom fabricated 2015 Harley-Davidson Road Glide with a right-side mounted sidecar frame, the company works directly with funeral homes to provide seamless service that reflects and celebrates the life the deceased lived and loved with dignity and pride.
"After learning more about Iron Horse Caisson and their successful business, we knew that this was a company that we wanted to help," Kefalas continued. "Simply put, they honor the rider and their love of motorcycles."
According to the owners, Iron Horse Caisson is non-political, non-denominational, non- territorial, and unaffiliated, and anyone can hire the motorcycle hearse for a funeral service.
Operators are respectfully dressed and arrive ready to ride in any weather. Depending upon weather conditions, and working in coordination with the funeral director, Iron Horse Caisson welcomes family and friends to "Stands Up" and share the ride.
"The Savings Bank and its commercial lending team worked with us to secure a business loan that will allow us to celebrate and pay respect to the departed loved one," the owners added. "As a result, Iron Horse Caisson continues to offer one last run to celebrate a passion for freedom, adventure, and life."
"Iron Horse Caisson is a unique concept to our market area, and we were happy to help the DeFeos achieve their financial goals with the loan we provided – we wish them great success as they continue to grow their business", said Pete Johnston, The Savings Bank's SVP / Senior Commercial Banking Officer.
The Savings Bank's Commercial Lending team welcomes local businesses to contact them at (800)-246-2009 to discuss their specific business banking needs.
Additional information about Iron Horse Caisson is available on their website at www.ironhorsecaisson.com  or by calling 762-CAISSON (762-224-7766).
From our customers
"I am older and appreciate the ease of banking online. I always get good service at the branches I visit."
From our customers
"I love it here!! Best service all around."
From our customers
"The employees are knowledgeable, reliable, industrious as well as kind and personable."
From our customers
"Always helpful whether in the branch or online!"
From our customers
"Banking with The Savings Bank was with me for several years & it will always be my bank forever!!"
From our customers
"I found your online banking system very user-friendly. I also would like to mention that the staff in the Wakefield branch are professional and very helpful."
From our customers
"Their community involvement has made a huge difference in Wakefield over the years."
From our customers
"I spoke to Theresa today and she was incredibly helpful! That is why I bank with you! The personal touch is what makes the difference!"
From our customers
"Love the tellers at the Lynnfield Center location. Very professional and caring."
From our customers
"Love Lakeside. Mario and staff always greet me by my first name."
From our customers
"Bank personnel are always so willing to help. They always greet us with a smile. In this world today, it makes us feel good!"
From our customers
"I mostly use the Methuen branch. All of the tellers have been wonderful and the branch manager is fabulous."
From our customers
"Great people. Great service. Convenient."
From our customers
"The whole banking center experience is excellent. The website is superior to most for my wants/needs to obtain and store on MY own computer our home banking records."
From our customers
"Competent, knowledgeable, customer-focused, and very warm and friendly employees."
From our customers
"Such a great support center when you need help, and the technology has kept up. I use Zelle which solved a banking problem I had had for years. The team in Greenwood is absolutely excellent! Thank you all."
From our customers
"I basically never have to go to the bank to deposit a check. it can be done from my phone saving me time, trips and gas which means I can focus on other important tasks."