FAQ – Mobile Banking & Check Deposit
Our Frequently Asked Questions are designed to answer all our customers' questions.
Have a question we don't cover here? Use our Contact Form and we will be sure to provide the answers you need!
When depositing a check through The Savings Bank Mobile App, effective immediately, please make sure you use the endorsement listed below:
Your signature AND "For mobile deposit only at The Savings Bank" is required for all checks deposited via TSB Mobile Deposit.
If you deposit a check without this mandatory endorsement, the check may be rejected. You will receive an email notification that your "transaction was rejected during the review" and "Reject Reason: Missing Restrictive Endorsement" at the email address on file for your TSB account.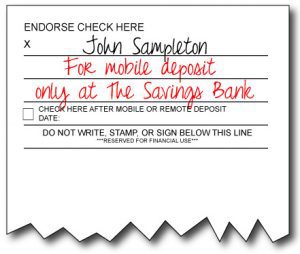 Is this endorsement required on all checks I deposit at TSB?
This endorsement only applies to mobile deposits and is not required when you visit the bank.
Why is this endorsement required? It's so much longer than a regular endorsement.
We know the endorsement is long, and we apologize for any inconvenience this may cause you. This longer endorsement is being used to protect your deposits so that items are not accidentally presented a second time at another bank when they have already been deposited via TSB Mobile Deposit.
Can I use the check box in the endorsement area rather than using this new endorsement?
No, the mobile deposit check box and space for the date are for your record-keeping and do not meet the requirement for mobile deposits
Updated as of July 2023
Apple – Minimum OS Version Submitted – iOS version 15.0 and iPadOS 15
iPhone 6S, 6S Plus, 7, 7 Plus, 8, 8 Plus, 11, 11 Pro, 11 Pro Max, 12, 12 Mini, 12 Pro, 12 Pro Max, 13, 13 Mini, 13 Pro, 13 Pro Max, 14, 14 Plus, 14 Pro, 14 Pro Max, SE, SE (2nd Gen), SE (2022), X, XR, XS, and XS Max
iPad 6th Generation – 2018, Air 4, 2022 M1 Chip Model, M1 iPad Pro 2021, (11″ and 12.9″), Mini 5, Pro (2021), Mini (2021), Pro (2018)


Android – Minimum OS Version Supported – Android 9.0
Google Pixel 3, 3 XL, 4, 5, 6, 6a, 7, 7 Pro
LG G7 Thin Q, Stylo 5, V40 Thin Q, V50 Thin Q
Motorola Moto G7, Moto Z3, Moto Z4, Moto G Power, Moto G Stylus 5G
One Plus 6T, 7 Pro, 9
Samsung Galaxy A03s, A10e, A11, A13 5G, A20, A32 5G, A51, A 53, Fold, J7 Crown, Note 9, Note 10, Note 10+, Note 20 Ultra, S9, S9 Plus, S10, S10E, S10+, S20 (S11), S20+, S20 FE 5G, S20 Ultra 5G, S21 5G, S21+ 5G, S21 FE 5G, S21 Ultra, S22 5G, S22+ 5G, S22 Ultra, S23, S23 Plus, S23 Ultra, M13 5G, Z Flip 3 5G, Z Fold 4
Samsung Galaxy Tab A, S7 FE 5G, S7 FE


Hardware Requirements
Remote Deposit Capture support requires a camera of at least two megapixels in resolution
Mobiliti does not support the use of the Android "Developer options" setting, including USB Debugging
Jailbroken/rooted devices and MITM interception are not supported


Browsers and Channel Support
Only the default installed device browser is supported
Beta version of browsers are not supported
The SMS channel is only supported for devices with SMS capability


Important note regarding TLS (Transport Layer Security)
Mobiliti only supports TLS 1.2 for app communications. Any device or browser that does not support TLS 1.2 will not be able to connect to Mobiliti services—even if the device is on a supported operating system version. This is being enforced to comply with security mandates from regulatory authorities and ensures secure communications for mobile banking users.
Supported Networks
The Mobiliti product supports the Tier 1 carriers in the U.S., including:
Mobiliti's support for non-Tier 1 carriers depends on the contractual agreement between the SMS gateway provider (aggregator) and the individual carrier.
Supported App Stores
Apple App Store (iTunes)
Google Play (Android app store)
Supported Browsers for Web Applications
Supported Browser(s)
(Current stable versions)

Internet Self Service
(Accessed through online banking)